One of the big draws for knitters who get to London this summer is the Missoni exhibition at the Fashion and Textile Museum where you can see a selection of the beautiful, colourful knitwear the company is famous for and learn a bit about the ideas behind the designs.
A few lucky people, including this blogger, have been able to get tickets for talks from members of the Missoni family and the design team where they have explained the work that goes into creating the knitted fabrics. Although the form of knitting done on Missoni's machines is very different to what we produce on our knitting, how the team thinks about the weight and drape of the yarns they use and the colour combinations is very familiar. The company has a "knit lab" where the design team experiments with yarns, fabrics and colours – hands up if you'd love to visit.
One of the colour looks Missoni is famous for is the "space dye"as in this dress.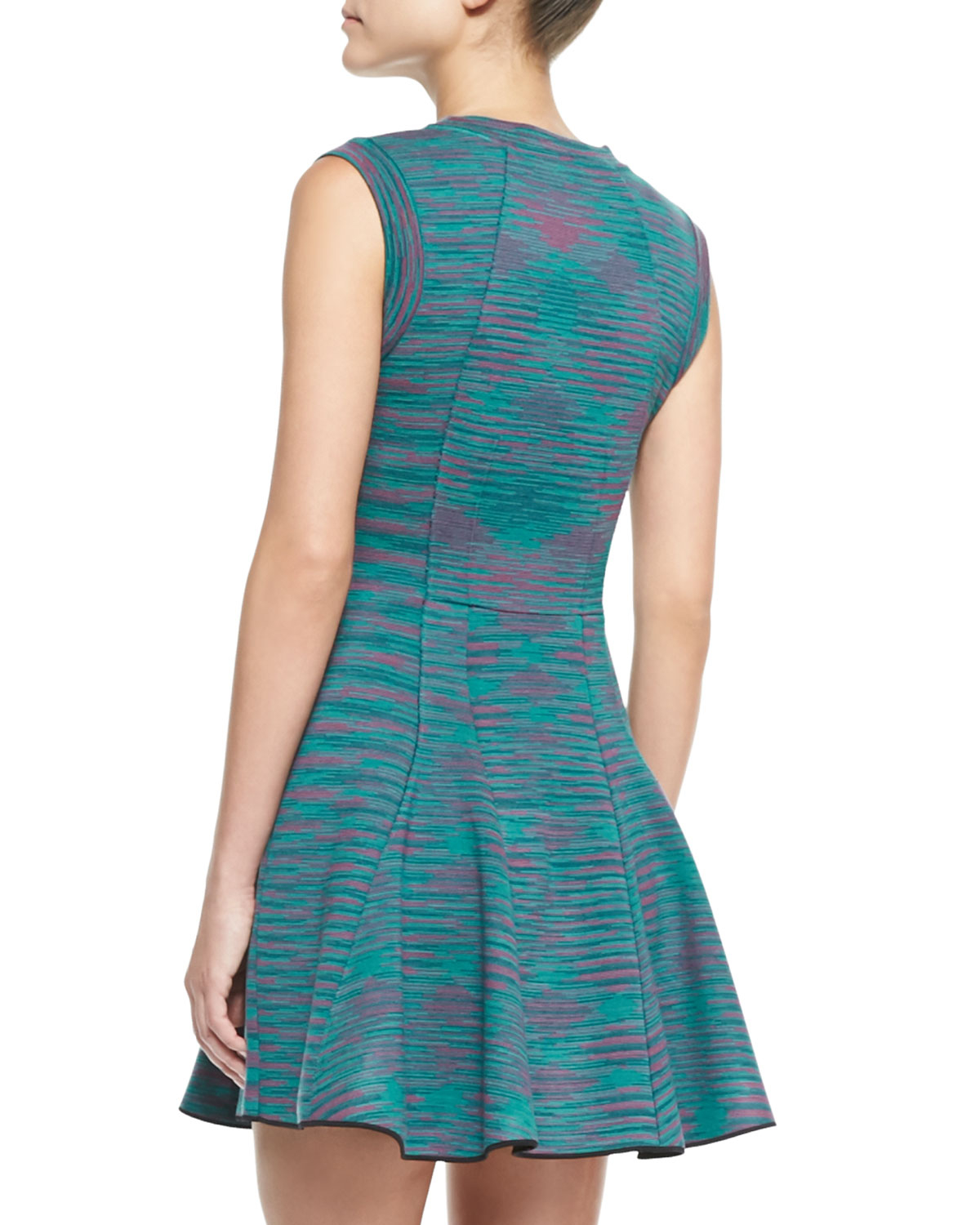 The space-dyed look is achieved through what you and I would know as variegated yarn and so there are plenty of options for you to create your own high fashion looks.
So we have picked out a few of our favourite variegated yarns for you and collected  some tips on using them for you.
As the Missoni team pointed out, how the colours distribute in a piece of knitting will depend on how long each piece of colour on your yarn is and how long your row is. This means the colours may distribute in a different way on the body of a jumper and on the sleeves. But as they also suggested, don't worry about this and enjoy seeing what the colours do.
Think carefully about stitch patterns and swatch before you embark on a large project. Variegated yarns can fight with some textured stitches which means neither the lovely colours nor your beautiful knitting are shown off at their best. On the other hand these yarns can work well with lacy patterns feature lots of eyelets.
One very effective use of variegated yarn is with a complementary plain yarn in colourwork, which means your fair isle or intarsia pattern changes over time. Pairing a neutral variegated yarn with a bright one can also work here.